Project Site: D&I Fitness
Location: South Orange, NJ
Facility Size: 3,569 Sq. ft.
Wellness Design Features: Open-flow with strong integration of natural-light, BPA free Turf flooring, Anti-microbial paint coatings, and a plethora of free space.
D&I Fitness is more than just a gym, they believe fitness is a way of life. Drawing inspiration from the owner's Muy Thai fighting experience, D&I Fitness offers functional fitness programming that cultivates a social fitness community for all ages.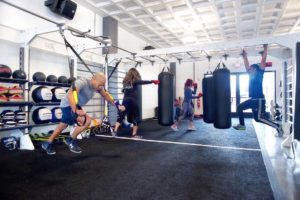 Aktiv Solutions set out to create a customized dynamic training solution that would facilitate various small group training modalities – to include: Boxing, TRX Suspension Training, Functional Training, and Athletic Performance Training. D&I Fitness wished to streamline class operations by incorporating a great storage solution for soft goods, free weights and accessories.
The client vision was for a refined, minimalist and modern-style gym. It was important that the facility deliver a strong visual impact in-line with the DNA of its expert training team while offering ample room for ever-changing functional and dynamic workouts.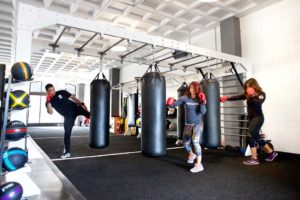 The Gym Rax system equipped with multi-bay storage and suspension, coupled with a 15ft bridge system, allowed D&I Fitness to bring their vision to fruition. Allowing the facility to provide motivating, fun and engaging group training programs for its members.
Advantage Fitness Products, sister company to Aktiv Solutions, provided the fitness facility design for the remaining studio gym space. This design offering included: Technogym cardio and entertainment, Technogym Kinesis strength circuit, supplemented cardio with Star Trac Spinning and Concept II Indoor Rower, Star Trac Max Rack and Jacob's ladder, Advantage Series Accessories, Power Systems Accessories, and UMAX Free Weights & Plates.